On Saturday night, we had our friends Noah, Megan, and Jonah over for dinner.  Jonah is 16 months old, and it was fun to watch Emily and Jonah interact together.  He came over again this morning to play, and I couldn't resist taking a few pictures of them together.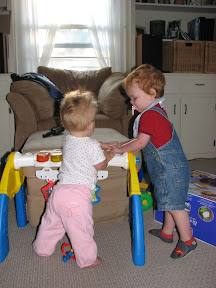 Jonah is also quite the computer wizard, as this photo shows.
It was quite the challenge to entertain both of them at once this morning, and even though they were both pretty well behaved, it makes me thankful that we only have one sweet girl for the time being!